By WBF staff
As anyone with a wooden boat will tell you, owning one is like having another member of the family. A little high-maintenance, yes, but strong and beautiful, with captivating stories and the scars to go with them, not to mention the kind of charisma that would induce you to expend a nice weekend going through stacks of sandpaper and picking bugs out of the wet varnish.  
You develop a kind of affection, a personal connection to the boat. It grows the longer you own it, the more work you put in, and the more memories you accumulate. Over time, the boat's legacy—its stories, its sorrows and triumphs, where it's been and who it has carried—becomes an integral part of its value. The time and the money put in become an investment in the care of something precious and beloved, not part of a return-on-investment calculation with some hoped-for profitable outcome (ha).
It's no surprise that when it comes time to sell a wooden boat after investing all that care, you want to find someone who shares those values. Someone who will convince you that they have the heart and the spirit to take good care of your beloved family member. Someone who will inherit the boat's legacy, and who will believe in holding the responsibility of stewardship for owners yet to come.
La Vie en Rose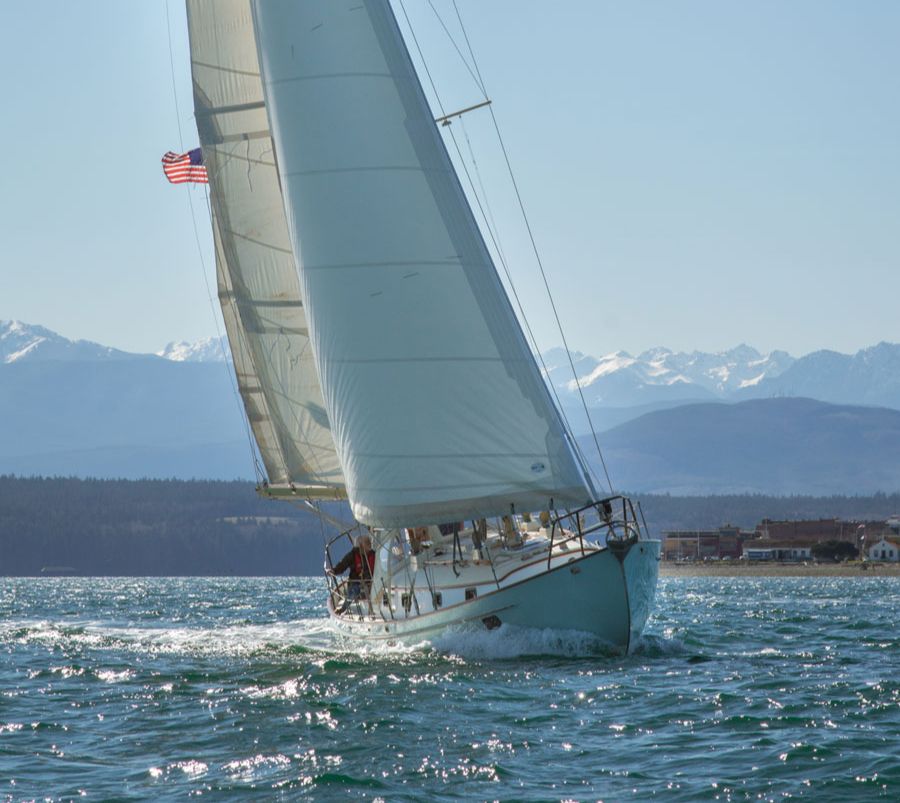 Dave and Rosemary Lesser were enchanted by traditional canoe yawls: their simplicity, fitness for purpose, and functionality for a small crew in any conditions. Working with Paul Gartside over several years, they developed the design for La Vie en Rose—a 40' cold-molded wood yawl that fuses the traditional and the modern—perfectly outfitted to take them on the cruising adventures they'd dreamed of. Jesperson Boat Builders completed the boat in 2012 and the Lessers spent six summers living aboard, exploring Puget Sound and the BC coast all the way to Haida Gwaii. In 2018, they sailed south with the intention of continuing across the Pacific, but COVID's disruptions and the magnetism of Bay-area grandkids upended their plans.  
When Rosemary was elected to the Utah legislature in early 2020, the Lessers knew it was time to find a new steward for La Vie en Rose. They wanted people to continue to enjoy learning to cruise, and some assurance that the new owners would be committed to keeping her in tip-top condition. When the Lesssers offered to donate the boat to Northwest Maritime Center, Executive Director Jake Beattie was thrilled but knew he had to do some due diligence to be sure the organization was up to this responsibility of stewardship. The Lessers were relieved to see a knowledgeable group "doing the math" and validating that the boat would be able to be cared for long-term.  After some paperwork and a celebratory splash in early 2022, La Vie en Rose begins her first season this year as part of NWMC's educational fleet, gathering new memories and building a new legacy as she continues to the next phase of her life. Come enjoy a Private Group Sailing Lesson on La Vie en Rose to experience sailing for the first time or polish up your sailing skills!
Henrietta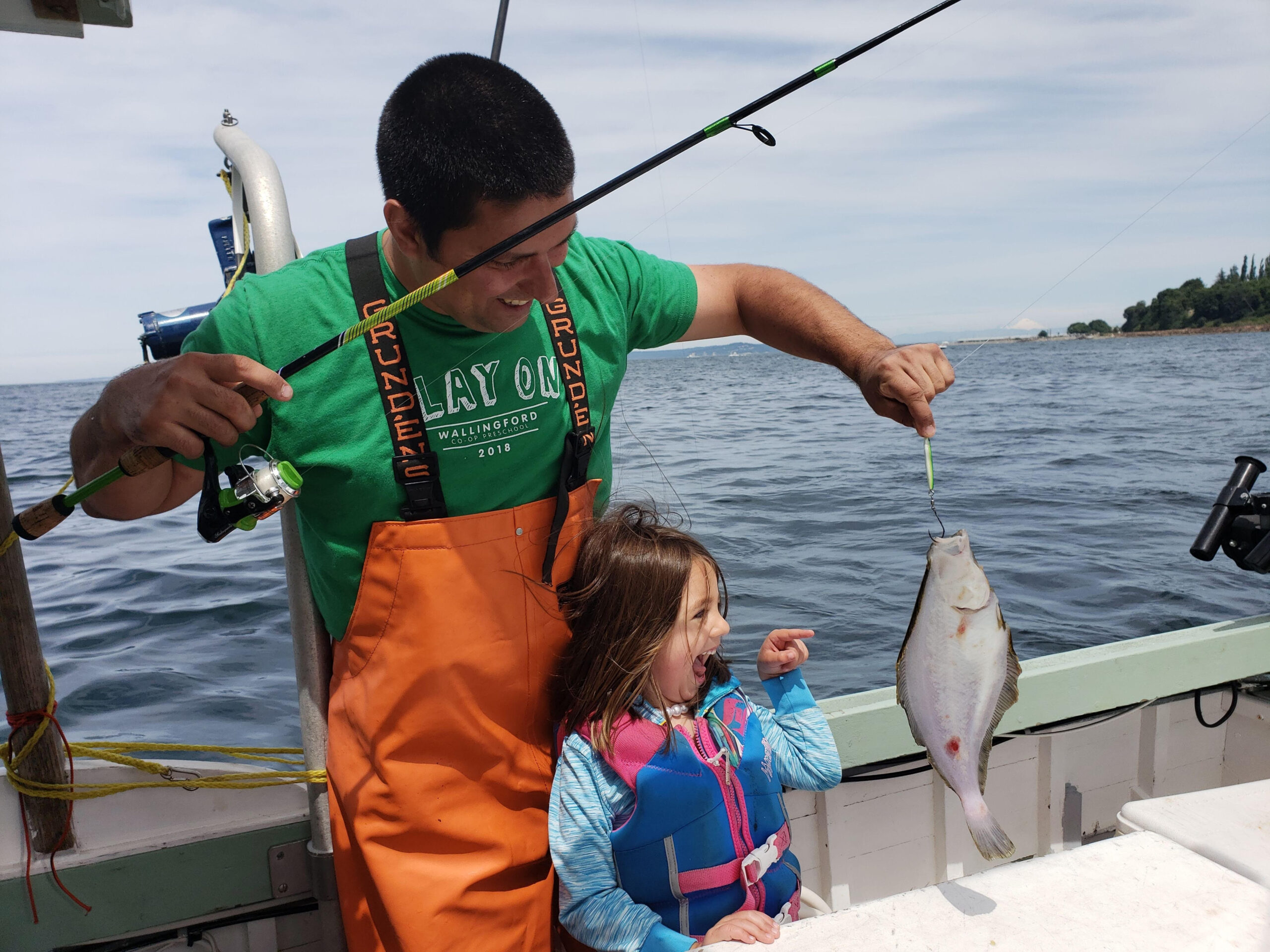 When Seattle engineer Luke Seever first saw Henrietta, he was really in the market for a fast fiberglass fishing boat.  But he was drawn to her classic lines and a boatwright friend inspired him to take a closer look. "I got convinced that wooden boats weren't all bad, and might even be good! There's this incredible community around them that switched it from something impossible for me to something desirable." A couple of recent owners had not had the time or inclination to keep her in fine fettle but luckily for Henrietta, Luke, his wife Mandy, and daughter June were looking for a wooden boat that they could pour their hearts into.   
Luke wanted to learn to care for the boat himself, and worked alongside John Thomas (Thomas Boat Repair) who was willing to share his expertise with an eager and committed pupil. "The fact that you can do that in this community is amazing," Luke remembered. "You come in with a little humility and people are excited to share what they know and pass on the love of the craft."
They've now entirely replaced the transom (where Mandy hand painted the name in elegant script), repaired key planking, updated the transmission, added a crab-pot-puller, a new stove for wintry crabbing days, and more. June has grown up on the boat, and now at age 9 has had more success fishing than many of us can hope for. The family has explored the Sound and the San Juans, with aspirations to take the boat farther afield from a new home base on Shaw Island.  
Sharon L.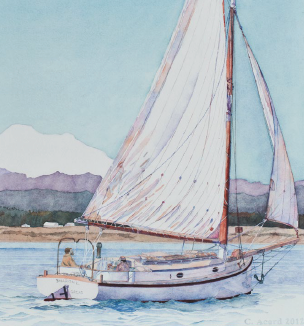 Miles McCoy spent a lot of time hanging around the docks and yards of Lake Union as a boy in the 1930s and 40s. Having taught himself to sail and made friends with boatowners, keepers, and builders as a self-proclaimed "water rat," he had a ready-made community of advisors when he bought the 1932 Alden catboat Sharon Lin 1945. These included Norm Blanchard (whose yard built the boat and who was concerned that Miles was cutting school!) who agreed to work alongside him to replace the cockpit, the water tanks, and re-bed the canvas that covered the house. Thus began Sharon L's membership in the McCoy family, one that lasted more than 60 years.
After the war, Miles and his father reconnected by working together taking care of the boat, and as a young man Miles moved to West Sound on Orcas Island, and lived aboard for a number of years. They operated a charter business which became an Orcas Island institution for more than 25 years, and raised 2 children with his wife Louellen and Sharon L as a member of the family. A 1987 restoration, including a deck replacement and refastening, was costly, but the charter business covered maintenance costs and caring for the boat was a closely held family value.
In 2007, Miles met Tupper Griffith while working with Robert D'Arcy (Tupper's brother-in-law) on more restoration work for Sharon L. Tupper impressed him with his commitment to fine craftsmanship and his family connection to the marine trades. Tupper recalls "The more I started crawling around the boat—I thought WOW.  She's simple, comfortable, home-like—I really liked this boat!" Miles recalled "By that time I was thinking it was time to move along.  Tupper looked me in the eye and asked 'would you consider selling this boat to me?'  I only had to think for a minute—'Yes, I would!'" 
Fifteen years later, Tupper, his wife Korie, and son Owen still call Sharon L a part of their family.  Tupper said, "Thanks to Miles and all the care he always gave her, she's in really sound shape!" Owen, now twelve, recently committed to helping his dad with ongoing maintenance, and the family looks forward to stewarding the boat's story for many more years to come!