2022 Application Opens in Spring 2022
Dates & Hours
The 2022 Wooden Boat Festival is September 9-11, 2022.
Thursday night is optional but recommended. Bar Harbor opens at 5 PM, and we encourage you to be open as early as you have food available, and to stay open until 11 PM.
Friday 9 AM to 6 PM
Saturday 9 AM to 6 PM
Sunday 9 AM to 4 PM
Bar Harbor is open until midnight Friday and Saturday nights. We ask that you stay open until at least 7 PM and as late as possible. The late night crowd can be a hungry one! Please do not tear down before 4 PM on Sunday.
COVID Updates
We will be following the guidelines of the State and Public Health for whatever phase we are in come September. This will be evolving throughout the spring and summer. Please apply if you are interested in participating in this year's Festival!
Requirements
Current Washington State business license. Out-of-state vendors can get a temporary license here.
Port Townsend business license
Jefferson County Health Department Food Services Permit
Proof of Insurance with Wooden Boat Foundation named as additional insured
Tent weights approved by City of Port Townsend
Fireproof tent if you have open flame under your tent
Fire extinguisher
Trash containers
Adapter for RV plug to electrical cord
Bee traps
Oil can for used oil
A great attitude!
The City of Port Townsend will be inspecting vendors for approved tent weights, electrical cord usage, and fire extinguishers.
Plastic Usage
The silverware washing station has been a huge success since 2017. In keeping with our plastic reduction crusade, we're going for a 100% plastic-free Festival in 2022!
No single-use plastic bottles
No plastic straws
No plastic drink lids
No plastic flatware
We provide all the labor and infrastructure to help support this cause. Please work with us and encourage your guests to use the real silverware provided. You can make a difference!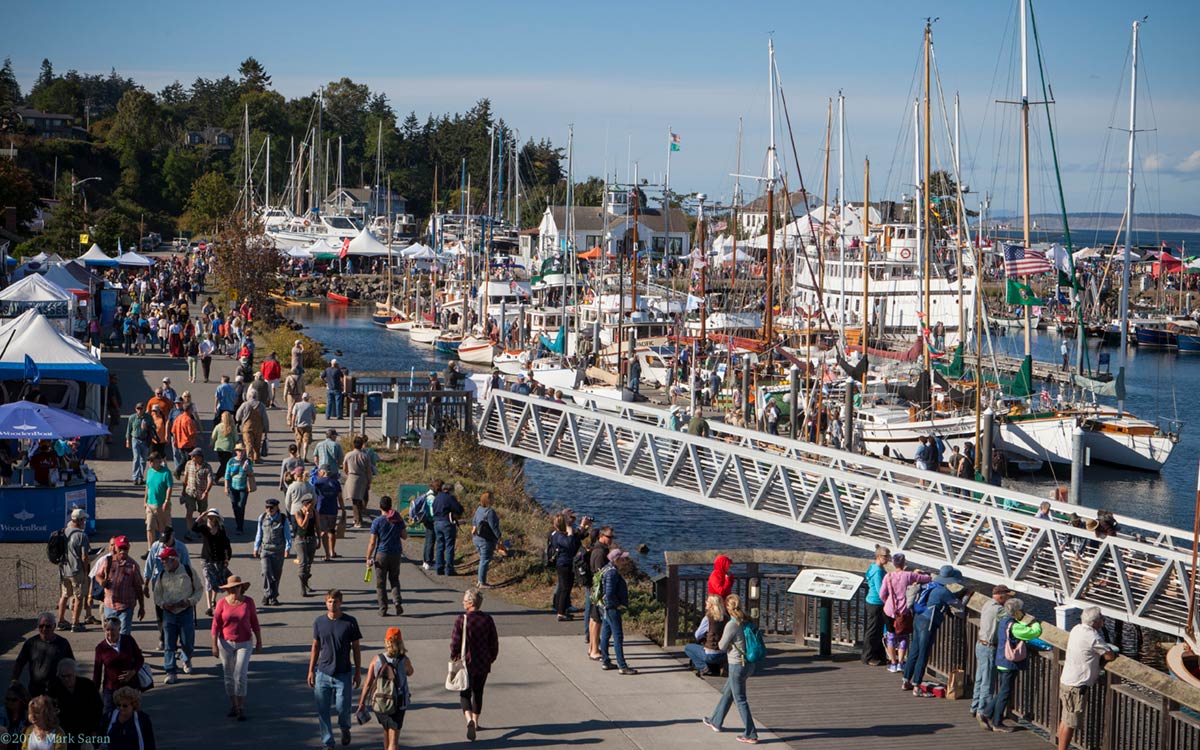 Cost
10 x 10 = $550
10 x 15 = $800
10 x 20 = $1100
Electricity
Vendors in Food Court:
Only one electric outlet per vendor is guaranteed.
In some cases we can provide more electricity—order during the application process. You will only be charged if we can provide more electricity.
Please be prepared to operate with minimal electricity.
We require the wattage of your equipment when you apply.
Vendors Located Outside of Food Court:
No vendor may run power cords over 100 feet.
You must have heavy duty 100 foot extension cord properly sized for your watts and amps.
Frequently Asked Questions
---
How do I apply?
After reading the information on this page, click the button at the bottom of the page.
Complete the application process including waivers.
Wait to hear from the Festival Director, who will contact you via email within a few days.
When accepted you will receive an invoice via email from our finance department with options and instructions on how to pay.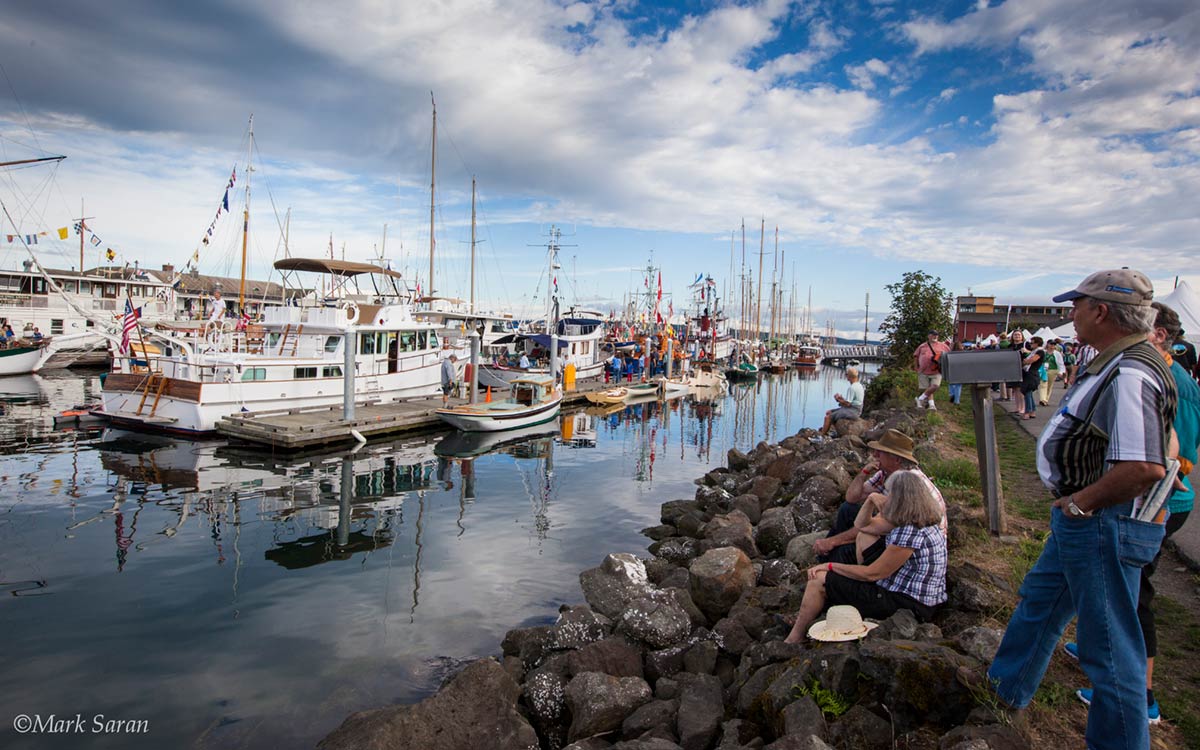 How do you choose who is approved?
The Festival Director approves vendors based on date of application, successful years in Festival, interest and variety of menu items, and attitude. Yep, we love a great attitude—it helps!
When will I know if I am approved?
We try to let vendors know within a week; however, it is dependent on all vendors getting applications in so we know who is returning. We wish we had control over when people apply, but sadly that's up to you all! We will be encouraging early applications to expedite the process for everyone!
I'm from out of state. How do I get a temporary business license?
Please visit
this website
for information on how to get a temporary business license for Washington State.
How much power is available?
Power supply is very limited in the Food Court. Each vendor is allowed ONE electrical outlet only. If your booth requires more power to run, please email 
food@woodenboat.org
to see if we can accommodate your power needs. Extra fees will apply. You will need to bring an RV adapter to be able to plug in your extension cord.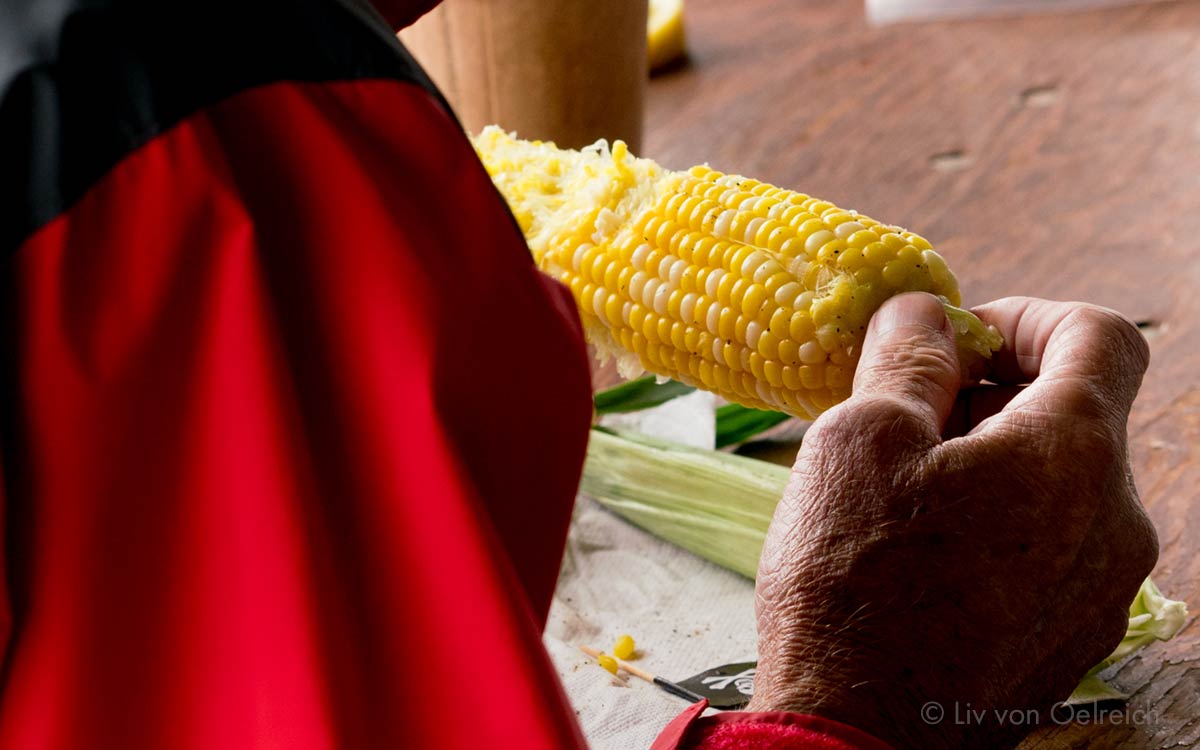 Is there anything I can't sell?
In the spirit of being eco-conscious, we have a water distributor that will give water out and refill water bottles for all Festival goers, vendors, participants, etc. No single-use plastic bottles may be sold, including those for water, juice, soda, etc. As much as we love an ice cold beer, beer and wine may only be sold at our approved 21-and-over venues: Bar Harbor, Wee Nip, and the Balcony Bar. No alcohol sales are allowed in the food court.
Why do you pre-approve menu items?
Our goal is to offer an interesting variety of foods for sale. To eliminate the chance of double offerings we pre-approve all menu items. Only the menu items that have been approved will be allowed for sale. Soft drinks, lemonade, and ice tea do not need to be approved. Please contact us at
food@nwmaritime.org
to go over your menu items if you would like to review your ideas before applying!
What do you provide?
A weekend full of Festival goers, boats, music, and fun
Open space for your tent/booth
One electrical outlet per vendor
A 3-compartment sink with hot water to be shared between all food vendors
Real silverware! We distribute, collect, and wash them for you.
Sanicans located across from food court and throughout Festival grounds
Large trash receptacles to empty yours into. Located in the "Back 40" parking lot
Recycling bins in food court
Where do I check in? Where is my booth?
Please arrive at the Exhibitor Gate after noon on Thursday. You will receive your Festival passes and parking passes there, as well as a map with your location in the food court.Your spot in the food court will be clearly marked. Please stay inside your allotted space. If you require extra space please email food@woodenboat.org.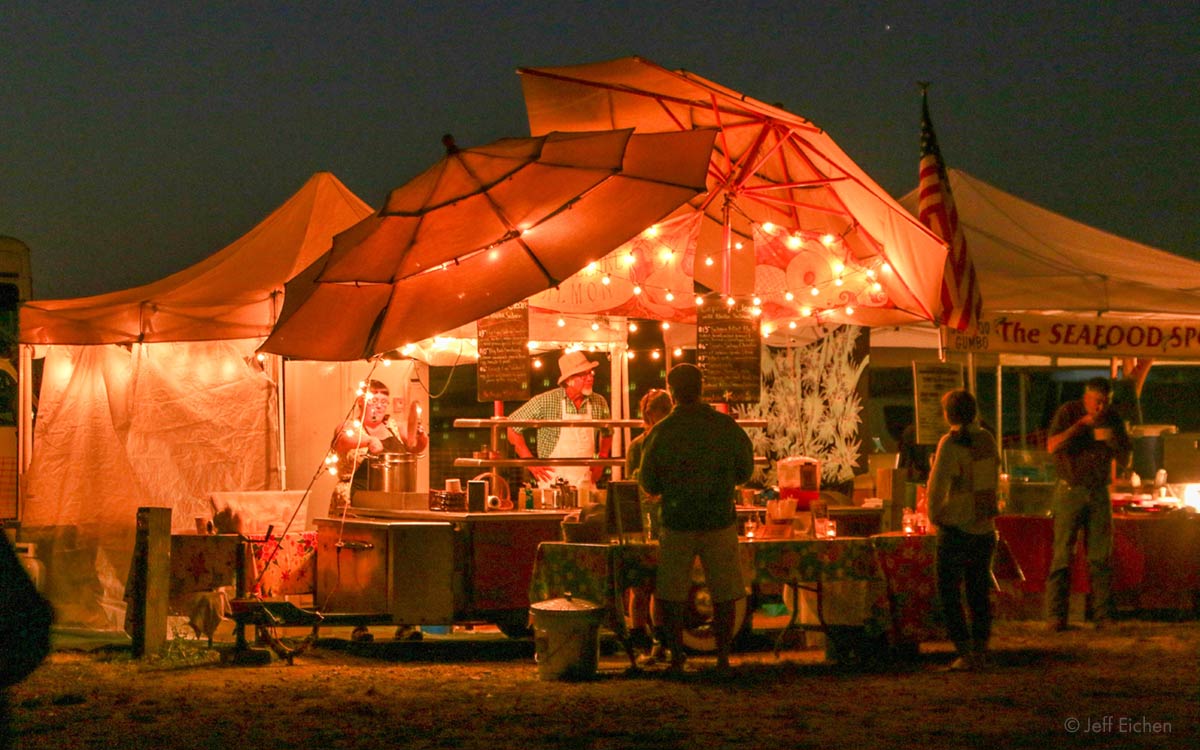 Where can I get ice?
Ice is available for sale inside the Festival grounds at SEA Marine and Shanghai Restaurant. The "Ice Guy" has been known to share the salted ice from the bars if you play nice.
Where can I dump my grey water?
There are pump-outs located near the food court. They will be marked on your map.
Where can I dump used oil?
Sorry, we don't have an oil dump on site. You will need to bring out all oil that you bring in. Please do NOT use the sewage dumps in the food court for dumping oil. This is so important and so damaging that if caught dumping oil you will be asked to leave and not be allowed to return to Festival. Please please please do not do it.
Do I have to clean up?
You will be responsible for leaving your space as you found it. If we have to come clean up after you, you will be charged a $100 clean-up fee minimum, and likely not allowed back. Seriously, no one is coming to clean—it's left to the Festival Director, and she will be even more tired than you… so clean up after yourself!
---
By applying you agree to the following policies for food vendors:
You must have a current Washington State Business license and a Jefferson County Health Department Food Services Permit
You must provide us with proof of insurance and name NWMC additional insured
You agree to meet all Jefferson County and Washington State health regulations.
You agree to bring an appropriate fire extinguisher.
You agree to bring appropriate tent weights approved by the City of Port Townsend.
You agree to not sell single-use bottled water or drinks.
You agree to utilize the silverware station and not give out plastic silverware.
You agree to eliminate plastic straw usage during the Festival.
You agree to eliminate plastic drink lids as much as possible.
You agree to not dump anything but water down the sewer lines.
You agree to not serve alcohol.
You agree to leave your space as you found it, clean of all food, refuse, litter, etc. If your space is not cleaned up, you will be charged a minimum cleaning fee of $100, potentially more, and your chances of returning diminish greatly.