Header photo by Thomas Hawthorne
We have an epic line-up of speakers on the new Adventure Stage across the harbor in the newly renovated Pygmy building. Some of the speakers on the Adventure Stage this year include:
Karl Kruger
The only stand-up paddleboarder who has finished the 750-mile Race to Alaska on a paddleboard. Karl is currently attempting to become the first human to paddle the Northwest Passage (1,900 miles) on a stand-up paddleboard—yes, really! 
Follow him here.
Colin Angus
Colin Angus, cofounder of Open Ocean Robotics and 
Angus Rowboats
, has achieved many quests including completing the first human-powered journey around the world, Race to Alaska, rowing across the Atlantic Ocean, and rafting the Amazon River. He was named National Geographic's Adventurer of the Year in 2006.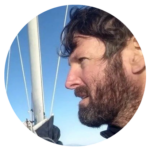 Ryan Finn
In April 2022, Ryan broke the record for the smallest 
boat
 to complete the route from New York to San Fransisco, around Cape Horn, single-handed. He completed the journey in a 36' proa designed by local legend Russel Brown—redefining what is possible in a proa.
Susan Conrad
Susan solo kayaked the Inside Passage from Washington State to SE Alaska twice, once in 2010, and again in 2022. She has penned three books about the Inside Passage: adventure memoir, photo essay book, and a children's book adapted from her true story. Lean more about Susan.
---
Don't miss this incredible panel discussion on the Adventure Stage:
Multihulls: Evolution & Revolution
Friday 4:30 PM on the Adventure Stage, featuring:
Ryan Finn: Just broke the record for sailing a proa from New York to San Fransisco, around Cape Horn
Russel Brown: 

Boat

 designer and builder
Steve Callahan: Author of Adrift: 76 Days Lost at Sea and multihull aficionado
Paul Bieker: Seattle Naval Architect who has worked Americas Cup yachts on foiling surfboards, Moth class sailors, skiffs, and ferry 

boats
Other special panel presentations at this year's Festival include:
Sea Stories
Saturday 3 PM on the Cruising Stage
Lin Pardey, Steve Callahan, Nigel Calder, and Karl Kruger come together for an hour of sea stories. Moderated by Joe Cline, editor of 48° North magazine.
Women in the Trades
Friday 2 PM on the Boat Yard Stage
Women in the trades share their challenges and accomplishments. Moderated by Diana Talley.
Designing for Solar Cruising
Friday 3 PM on the Green Boating Stage
Sam Devlin, Alex Borton, and Joe Grez