Written by Andy Gale. Wolfhound photos by Paul Wyeth Marine Photography.
Crewed by owners Steven and Louise Dews, the 64-foot schooner Wolfhound is on a 25,000-plus mile delivery, from the shipyard where she was built in Shillingstone, UK, to her new home in the Bay of Islands, New Zealand. Wolfhound and the Dews are on an extended layover in Port Townsend, WA, where the boat will join the Wooden Boat Festival and get some maintenance while Steven—a renowned marine artist—completes paintings and the couple makes new friends.
Classic Design, Creature Comforts
Wolfhound is a wood epoxy long-distance cruiser, constructed of strip plank douglas fir over laminated sapele frames and longitudinals. With decades of combined experience with classic yachts, Steven and Louise's design specifications for Wolfhound included a desire for the aesthetics and feel of a wooden boat, a schooner rig easily managed by the couple, a shallow draught, and a light, open interior.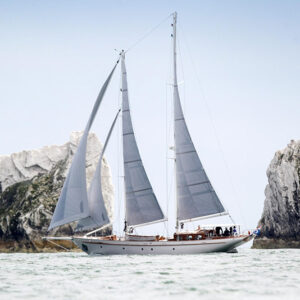 Despite her classic lines, Wolfhound feels very personal. Her name is sentimental of the couple's two now-deceased wolfhounds. Tributes to their dogs include a marquetry inlay of a wolfhound's paw print in the deck saloon dining table, Dew's sketch of a wolfhound imposed upon the asymmetrical sail, and naming their tenders Paddy and Seamus after the pets.
"Comfort was our primary concern," says Louise, adding "she's not a difficult boat to sail. She's stable, which is very helpful for us at our age."
After crewing a recent passage on Wolfhound, WE Sail adventurer-blogger Erica Thomas notes, "there were times while at sea crossing from Hawaii to Port Townsend when the seas were close to 4–5 meters with the winds screaming 30 knots, and we were sitting inside cozied up reading books and drinking tea. We really didn't feel as if we were in the middle of the ocean at latitude 40."
"If you are enjoying the ride, why hurry?"
– Steven Dews
Originally planning a 12,000-mile 'direct' route to New Zealand, Wolfhound's delivery has changed course, influenced by new friends and cruising opportunities, and closed borders in the Pacific due to the pandemic.
A Route to Port Townsend
In early 2016, after launching and trials, the Dews sailed Wolfhound across the Atlantic, ultimately finding anchorage in Antigua in time for the 2017 Antigua Classic Yacht Regatta.
"One of the huge pluses of having a classic boat is the amount of people we meet and the fabulous friendships we make," says Louise. "It's like having a pretty puppy."
While in Antigua, the Dews befriended Dorian Steele, a rigger and boatbuilder from Lunenburg, Nova Scotia.
"Dorian told us about the Nova Scotia Schooner Races, and we decided to go up to Nova Scotia for three weeks to race with the Nova Scotian and east-coast American schooners," recalls Louise. "From there we sailed up to Lunenburg for a look and fell in love with the town and the warm and friendly people, so we stayed for a year."
It was in Lunenburg that the Dews heard first of Port Townsend. "Several of our friends in Lunenburg had been over to Port Townsend's Wooden Boat Festival and talked a lot about it," says Louise. "We heard from everyone that it is one of the biggest and best in the world."
The Dews then made their way back to the Caribbean and their planned course, to the Pacific coast of Mexico via the Panama Canal, in early 2021.
"We wanted to come to Port Townsend but didn't think it was a feasible trip for us as we would be heading away from our goal, which is to get home to New Zealand," says Louise. "Once we learned the Pacific wasn't going to be open again this year due to the pandemic, we decided to do the loop up to Port Townsend over the summer, join the Festival, and head back down to Mexico in the Fall, ready to cross to French Polynesia in the Spring."
Once in Port Townsend, however, the Dews have found a boat owner's dream, prompting them to stay longer.
A Supermarket For Boats
Even the newer Wolfhound needs work and repairs, and Port Townsend's abundance of skilled marine tradespeople has the Dews staying in port through well into 2022.
"After trying to get work done in the tropics, this yard is like falling into a pot of honey. To be here, with all these fabulously talented people—it's like being in a supermarket for boats," says Louise. "Everything is here."
Louise recites a list of the work and trades businesses attending to Wolfhound: "We have Gold Star working on shore power adaptation. Revision Marine will put in an intelligent battery management system for our lithium batteries. The Shipwright's Co-Op is fixing our leaking chainplates, modifying our anchor plates, and fixing the centerboard. Hasse & Co have done a wonderful job of servicing our sails. Ian at Brion Toss yacht riggers is working on a rig modification. Pete and Cathy at Port Townsend Foundry are undertaking some casting work for us. Riley from Ronin Marine has carried out repairs to our little wooden sailing tender. Admiral Ship Supplies have nearly everything we need to do work on the boat and what they don't have they will get in for us quickly."
"Jen at Marina Cafe makes the best muffins on the planet! And I can get to the food co-op on my bike!" she adds.
Look for Wolfhound at this year's Wooden Boat Festival.
Andy Gale is a freelance writer currently landlocked in Colorado. He has built three wood-composite kayaks. Contact Andy at www.argale.com.