By Sugar Flanagan (owner)
When we think about boats, we often wonder, "Is she a keeper?" Alcyone is definitely a keeper. She was designed and built by Frank Prothero in his backyard in Seattle. He sailed her for 9 years and then sold her to the Hanke family who took care of her for 22 years. We have now owned Alcyone for 34 years; major maintenance projects are continually happening, but she has always been well maintained—never rebuilt—and remains a keeper.
Launched in 1956, she is one of the first replica boats, predating the Bluenose II, Pride, and Californian. Frank designed her after the Gloucester Fishing Schooners and built her in his backyard so as not to take up room in the commercial yard he and his brother ran on Lake Union. She was designed to have a square topsail; Frank even built three yards, but that aspect of her rig was never finished.
When we bought Alcyone, in 1987, we wanted to add a yard for offshore sailing. Getting in touch with Frank, we found out that he still had the metal work and the course yard in his shop—he had cut up the topyard for a bowsprit. So we bought the course yard, made a course and rafee, and sailed with them down the coast for our first offshore trip in 1988.
To Frank, Alcyone was a labor of love. She took 6 years to build and even though there was some community help, it was his personal project. When he sold her to the Hankes she had all hand-stitched cotton sails. We still have the hand-stitched fisherman. When asked about the sails, he said he would spend his evenings, for months, watching TV and stitching.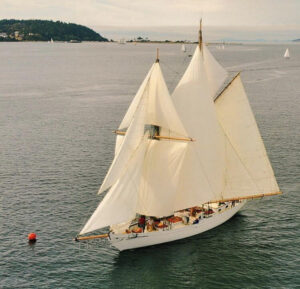 Alcyone can polish up and do a boat show with the best of them, lead a fleet of gaff-rigged schooners chasing down those pesky Marconi rigs in a race, and cross oceans in comfort—all while turning heads when she arrives in port. To us, she has been a business, a home, and always an adventure. We lived aboard her for 22 years raising a family, operating a charter and sail training business, and completing 5 offshore trips, 100,000 blue water miles, and more than 6 years away from our homeport. At this point, to us, she is part of the family.