---
Guidelines
We're taking a year off from the Edensaw Boatbuilding Challenge. Stay tuned for future announcements!
Maximum of four team members per team
Boat must be made of wood
Must provide your own building materials, i.e. sawhorses, tools, etc.
Clean-up and tidiness is important, please bring a tarp to put down
Teams may begin unloading materials on Thursday evening, after 5:00 PM
All building must take place on Friday, Saturday, and Sunday morning
No power planers, table saws, grinders, joiners or excessively loud/dangerous power tools
Power tool usage may be restricted during evening hours
No pre-cut material*
Pre-finished wood is acceptable
Completed boat must float one team member and complete short course
Vessel must be rowed, paddled, or sailed
Size of the boat is up to the team; build space is limited to 10'x15′
One parking pass per team near boat building area
*A certain amount of advance milling is acceptable. Wood can be planed and cut to a dimension, but not cut to a boat shape. Same for frames, transoms, and other stock. Wood cannot be glued up or cut in advance, but you can be ready to glue and cut at the start.
General Info
The Edensaw Boatbuilding Challenge is limited to 10 teams. If over 10 teams apply they will be chosen by lottery.
The cost is $125 per team, which includes two t-shirts and up to four Festival passes.
Prizes
1
st 
prize $1500 Edensaw gift certificate
2
nd
 prize $1000 Edensaw gift certificate
3
rd
 prize $500 Edensaw gift certificate
Frequently Asked Questions
---
What is provided?
Three bandsaws, a steambox, access to one electrical outlet per team, a roped-off build area, Festival passes for each team member, and an Edensaw docent to answer questions from Festival participants
Is signage provided?
Yes! A sandwich board will be made for each team, which will include:
Names of team members, background or occupation (boatbuilder, student, etc.)
Business name, if applicable
Whether finished boat will be for sale or not
Material cost
Information about boat design and/or your team's motivation
What are the building hours?
Thursday: "Set up your shop day" begins after 5:00 PM
Friday: 9:00 AM to 11:00 PM, noise restrictions may apply after 5:00 PM
Saturday: 9:00 AM to 11:00 PM, noise restrictions may apply after 5:00 PM
Sunday: 9:00 AM to 1:00 PM Float competition is at 2:00 PM Awards will follow.
What tools are allowed?
All hand tools and power-tools, with the exception of table saws, power planers, joiners, or grinders.
What materials are allowed?
Wood, fiberglass, and epoxy. Due to toxicity/odor, no polyester or vinylester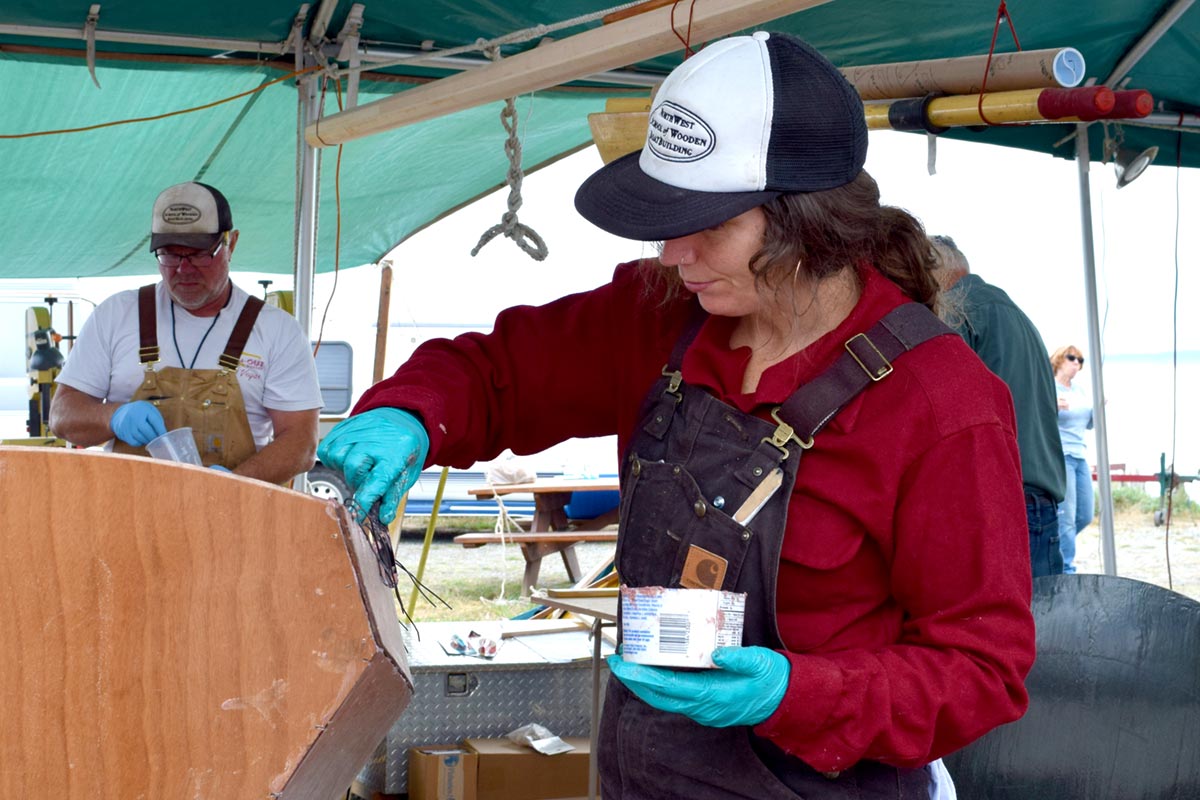 What materials are allowed to be pre-made or pre-purchased?
Oars, oarlocks, paddles, hardware, sails, rigging, and masts.
What prep work is allowed before the competition?
Full size plans, patterns, and pre-marking parts is allowed.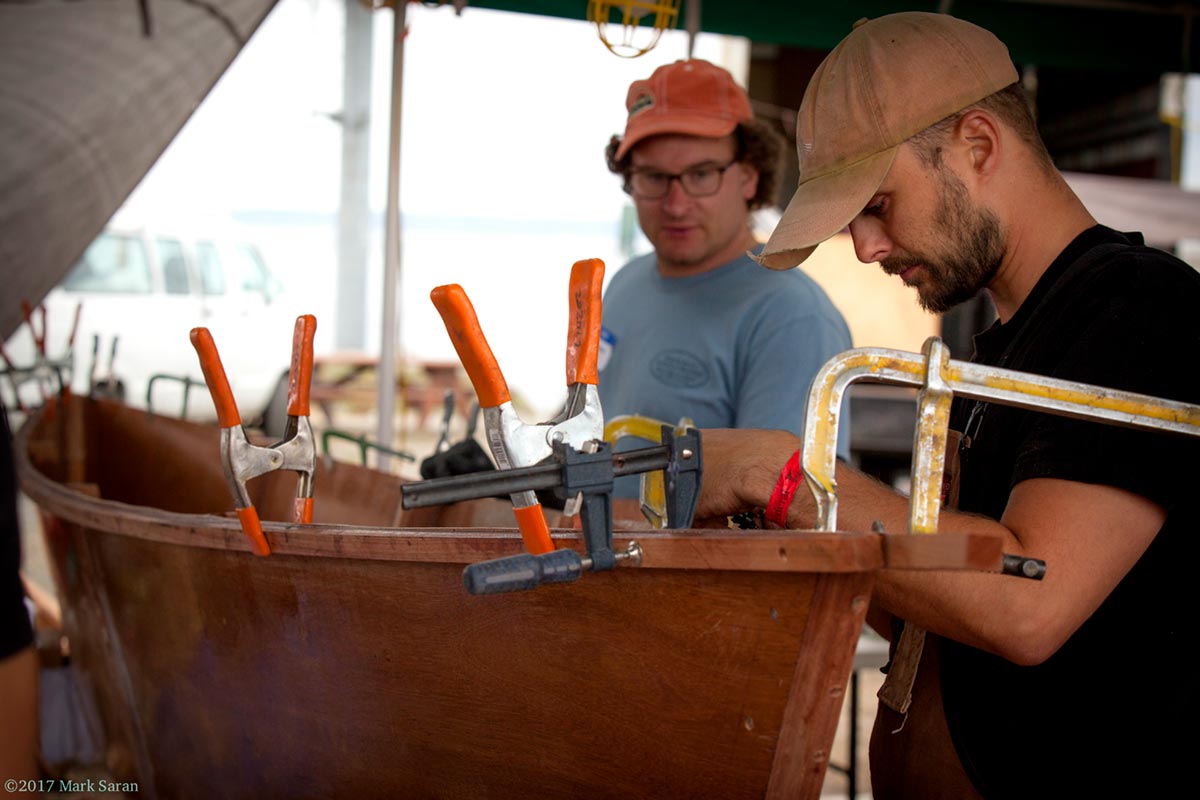 How many people need to fit in the boat for the float competition?
Completed boat must float one team member and complete our short course.
Will tools be secure overnight?
No. Teams are responsible for the security of their tools.
Can we sell the boat at the Festival?
Yes! We will provide signage for all teams which can include boat sale information.
Can we use inflatable buoyancy bags?
Yes, as a safety backup only. Not as flotation.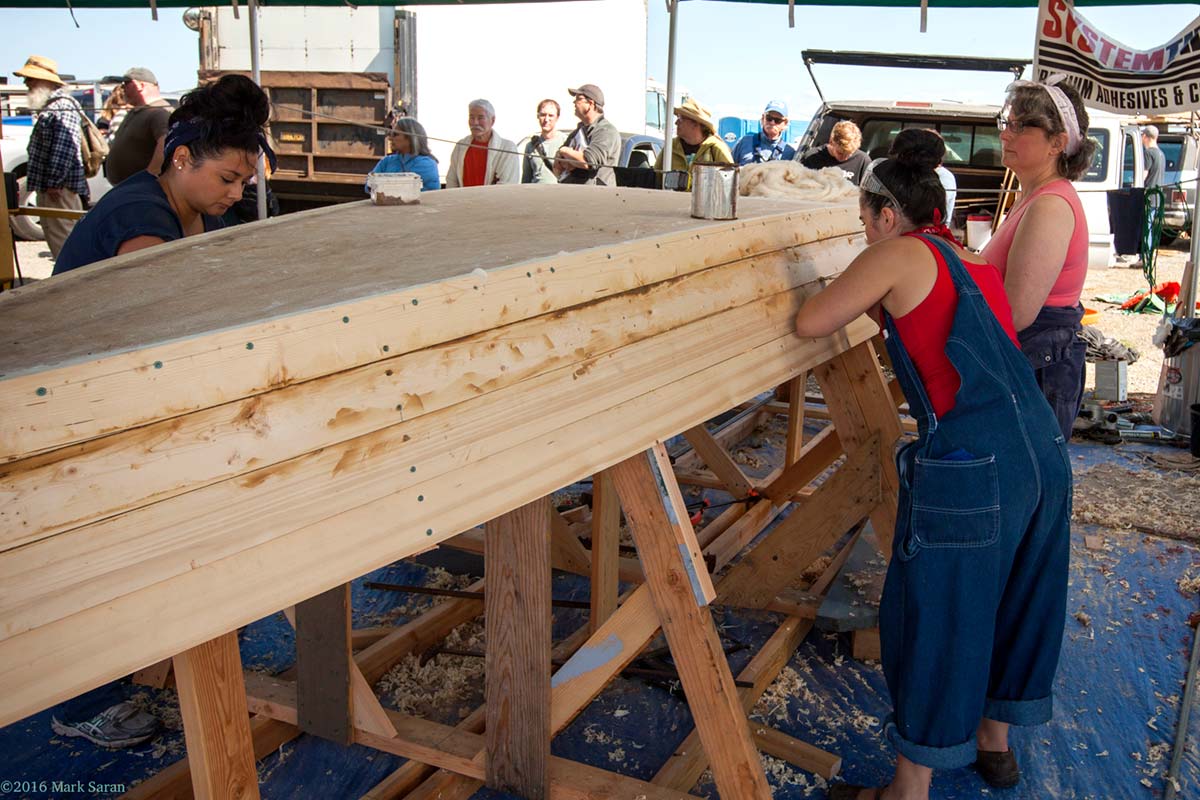 Can we use heaters overnight to help cure epoxy?
Teams are free to tent off their area and use a heater, provided it is not a fire hazard.
Do I need to bring my own PFDs?
Yes.
How is the winner decided?
In keeping with the spirit of the Wooden Boat Festival, the judging parameters are kept to a minimum. Unlike building a kit boat, we encourage original designs and construction technique to achieve an excellent boat in a short amount of time. Some of the particulars judges will be looking for: originality, design, workmanship, teamwork, performance, aesthetics, and seaworthiness.
---